Why you should give more unique swag to employees
Millennials are the most likely to switch jobs out of any generation. According to Gallup, 21% of millennials say they've changed jobs within the past year. That has several implications, including the fact that millennials have experienced many more employee milestones and celebrations than you may have thought. Despite their short careers, they've gotten multiple onboarding welcome kits, job anniversary corporate gifts, and holiday gifts throughout the year. If they visit conferences or participate in professional communities or meetups, they've probably received even more branded swag.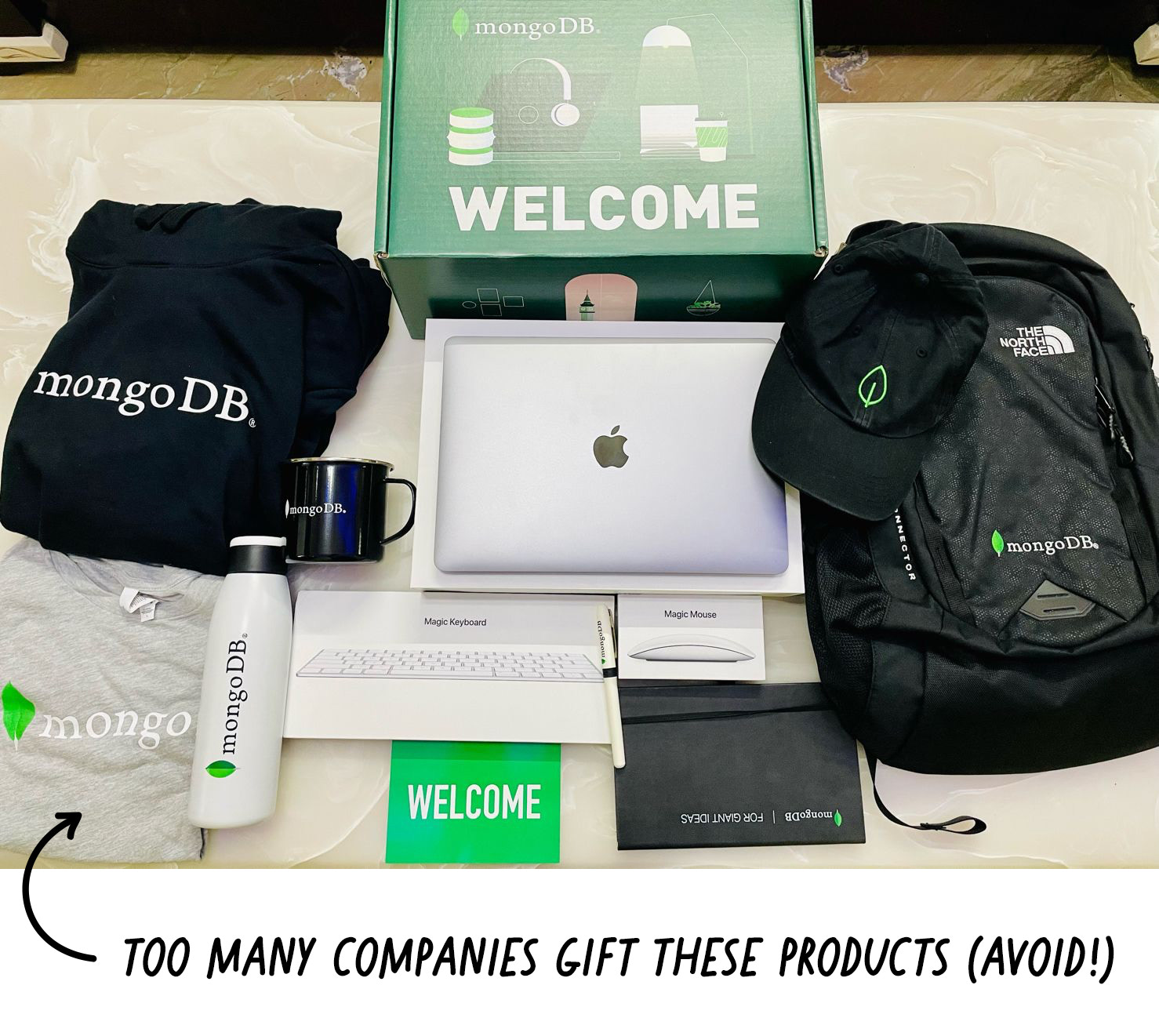 So if you consider the sheer number of individual swag items that they've accumulated over the years, you start to see how repetitive these gifts have become. They have a closet full of cheap backpacks, a drawer full of flimsy branded hoodies, and many more examples of the same product multiple times that end up unused. Eventually all these items end up in the landfill. For example, you only need one aluminium water bottle, or two if you want one for home and one at the office, yet people might have a cupboard full of them.
The same Gallup research shows that millennials are also the least engaged generation in the workplace, which makes employee engagement efforts even more vital. In addition to the environmental impact, bad employee gifts that don't get used miss the point of gifting entirely. They may not improve employee satisfaction or engagement, or diminish the branding impact of a corporate event or community engagement experience because a gift is generic or repetitive. Ultimately, a poor gifting decision that gives another example of the same item or a low quality item is bad for the environment, the company, and the employee.
Ideas list:
In this article we'd like to help you understand what swag to avoid and get some unique ideas for your next branded company swag:
Most popular (=overused) branded swag at 84 companies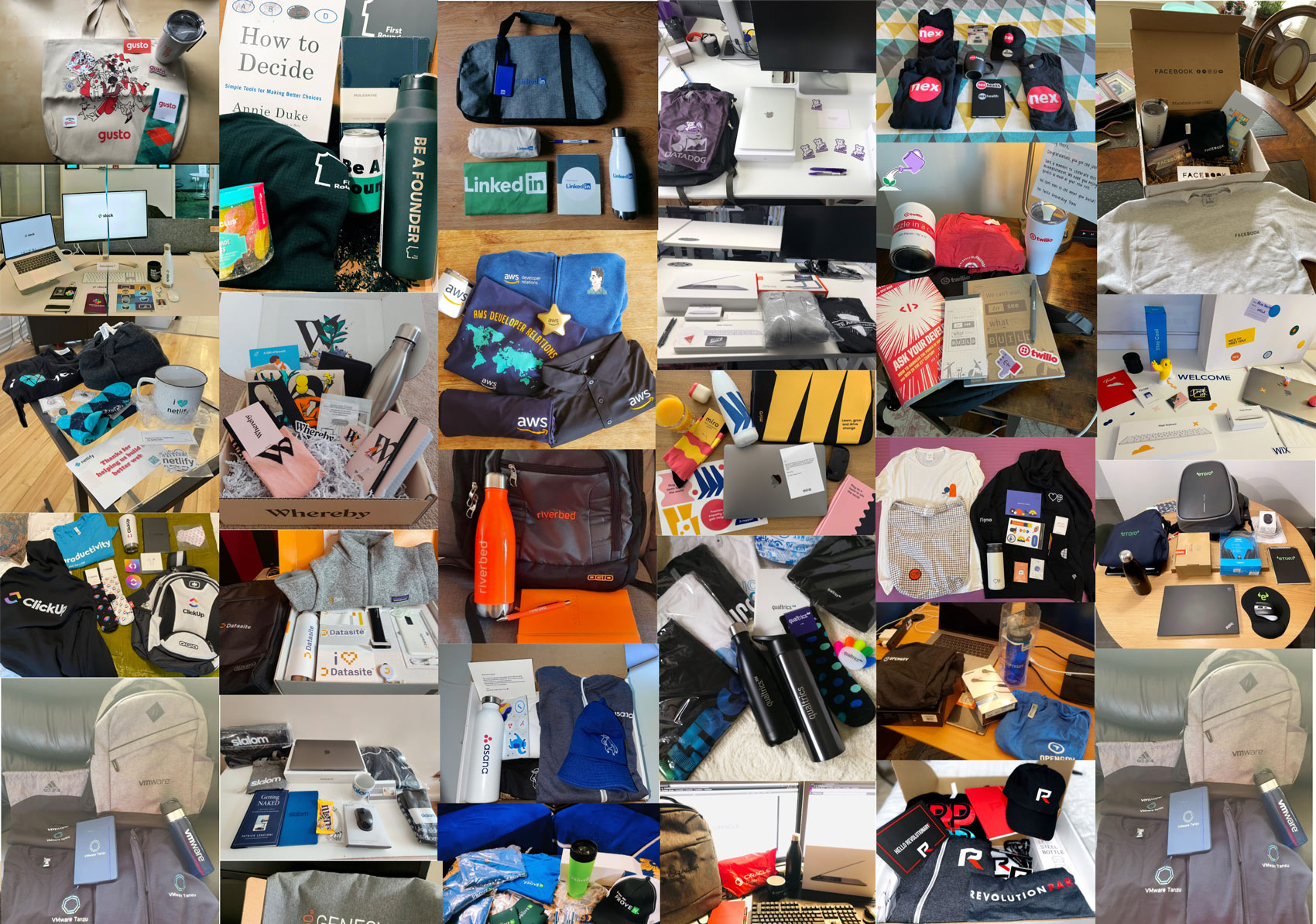 At Swag Fair, we stand by our commitment to sustainability and conducted our own research to uncover the most overused swag that's likely to end up in the bin. We analysed the branded swag gifted at 84 companies including tech giants and smaller companies too.
Here's the breakdown of the companies we analyzed and the types of items they gave:
Industry: Computer Software (30), Internet (18), Information Technology & Services (15), Other (20).
Companies: Facebook, Slack, LinkedIn, Amazon, NVIDIA, Square, Salesforce, Twitter, Asana, Wix, but also smaller companies.
Timeframe: 80% of the swag was gifted in 2021, the rest — between 2017 and 2020.
Occasion: The most popular occasion was new employee onboarding (about 80%), and the rest included community experience, intern onboarding, work anniversaries, and company/investor relations.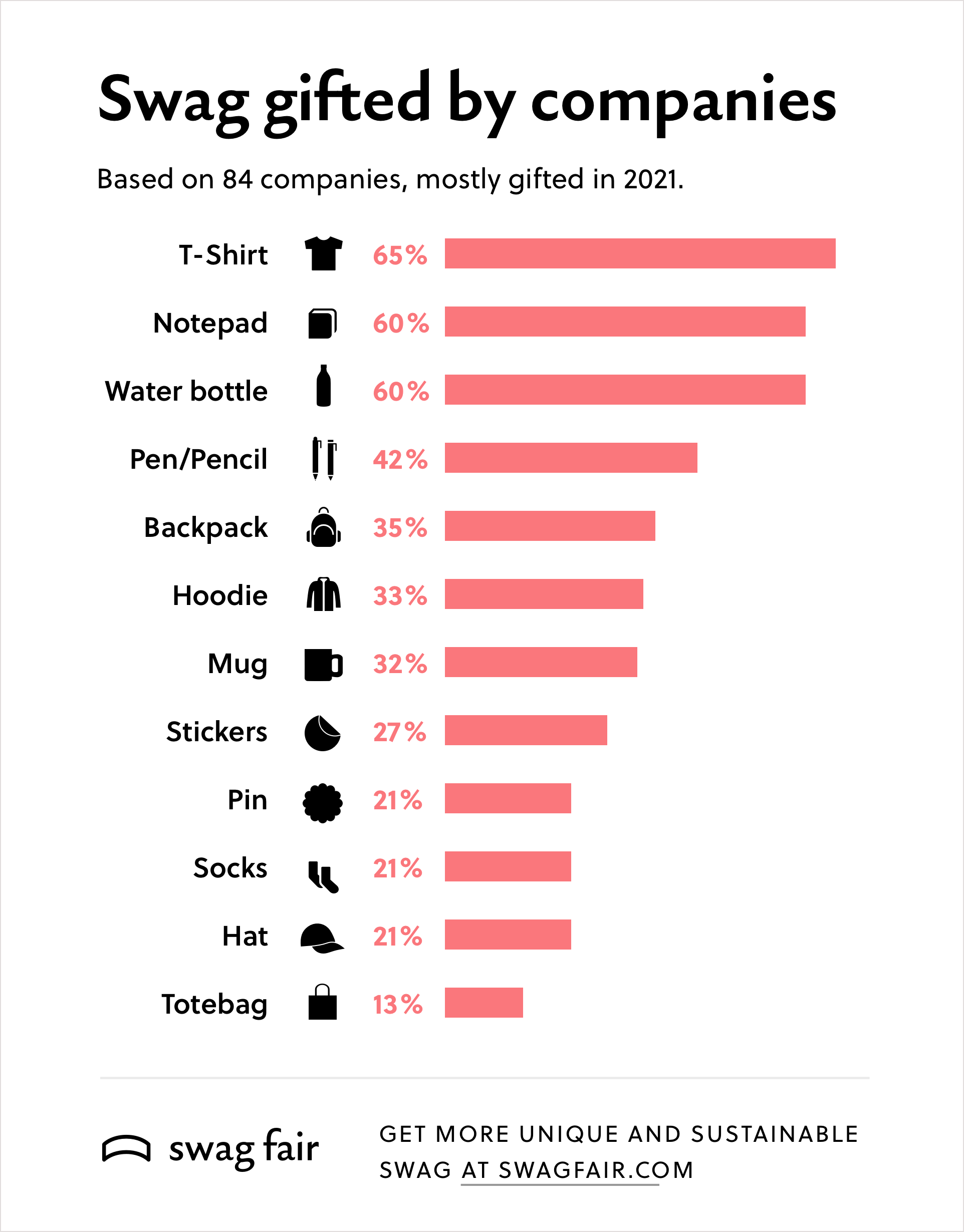 Companies give 4.6 branded items per swag bag on average
Our analysis also showed that when gifting branded corporate gifts, companies gave an average of 4.6 branded items. Keep in mind that most of the gifts came in new employee onboarding kits. As you can see, many of the most popular products are not the type of thing you need to have a lot of, and have a high chance of never being used again.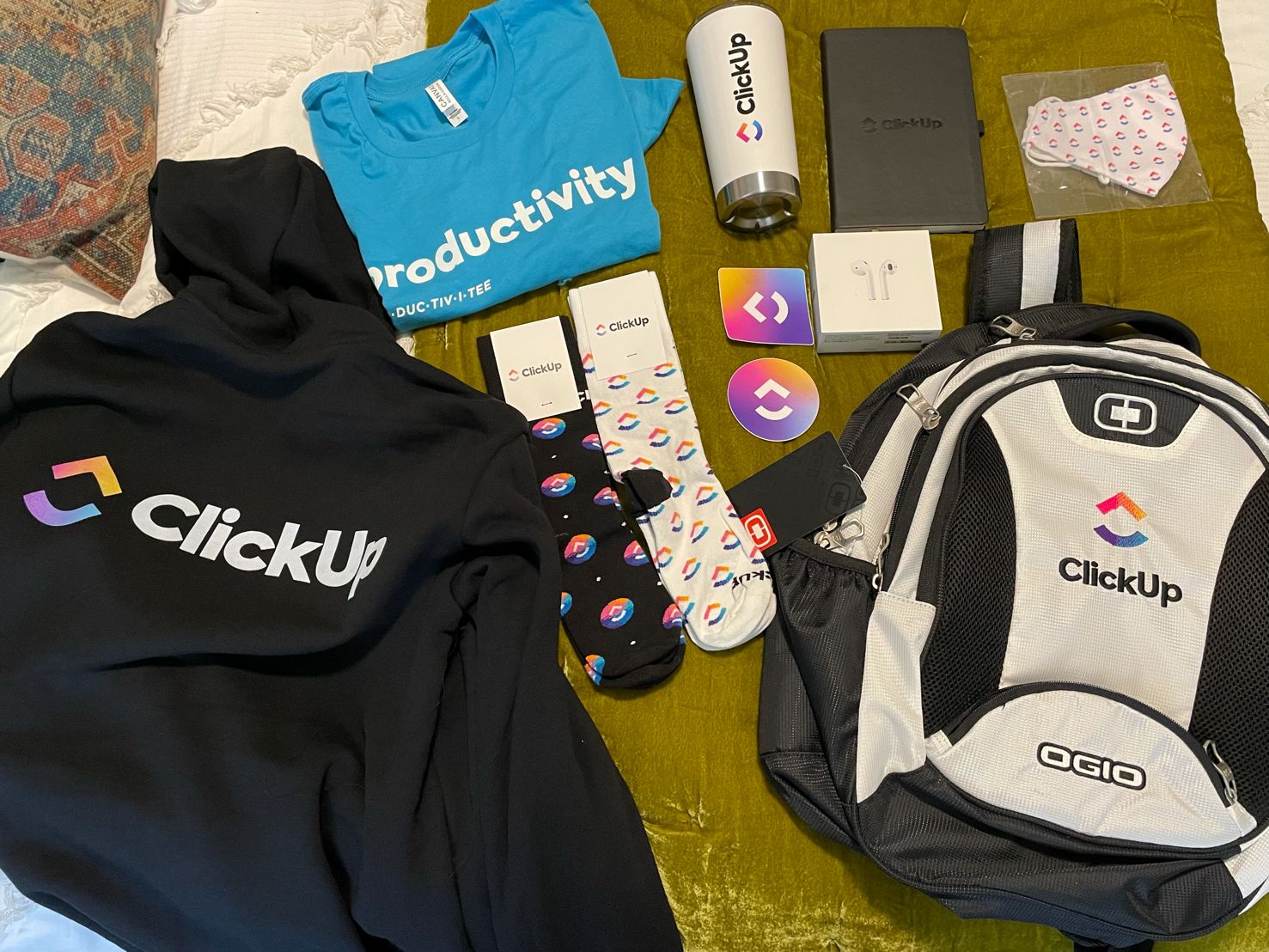 What swag to avoid
We recommend avoiding highly over-gifted products like the following:
Water bottles
Backpacks
Hoodies
Mugs
Hats
Totebags
Socks
This may seem to run against the conventional wisdom of giving employees wearable branded items to proudly show off for marketing purposes, but this works best when your company already has strong brand equity that people will be proud of displaying. It's less effective for companies with weaker brand recognition where employees may be hesitant to wear branded clothes and accessories. One notable exception applies to interns or new grads for whom this will be their very first employee branded items.
When your company, @nexhealthHQ delivers you a swag bomb and your not sure what order to wear or use what #nexlevelswag #patientexperince pic.twitter.com/SEUIrjx0hI

— Aditya Vempaty (@avemii) July 8, 2021
What swag to give if you have to
If you're committed to one of these items no matter what, it's best to pick a product that someone normally needs more than a single unit of, like the following:
T-Shirts
Notepads
Pens/Pencils
Stickers
List of unique swag products
It's easy to stand out
The good news is that if even companies like Facebook, Slack, LinkedIn, Amazon, or Twitter give these over-used gifts, it's easier for you to stand out with more memorable and sustainable swag that employees, prospects, community members, and investors will continue to use. That's exactly what Swag Fair is for – helping companies discover, source, and give unique gifts for all types of gifting opportunities.
Check out this selection of unique branded swag products to get started. We included the retail price to give you a sense of the cost, but of course the price per unit in bulk orders will be much lower.
Terra Thread Gym Bag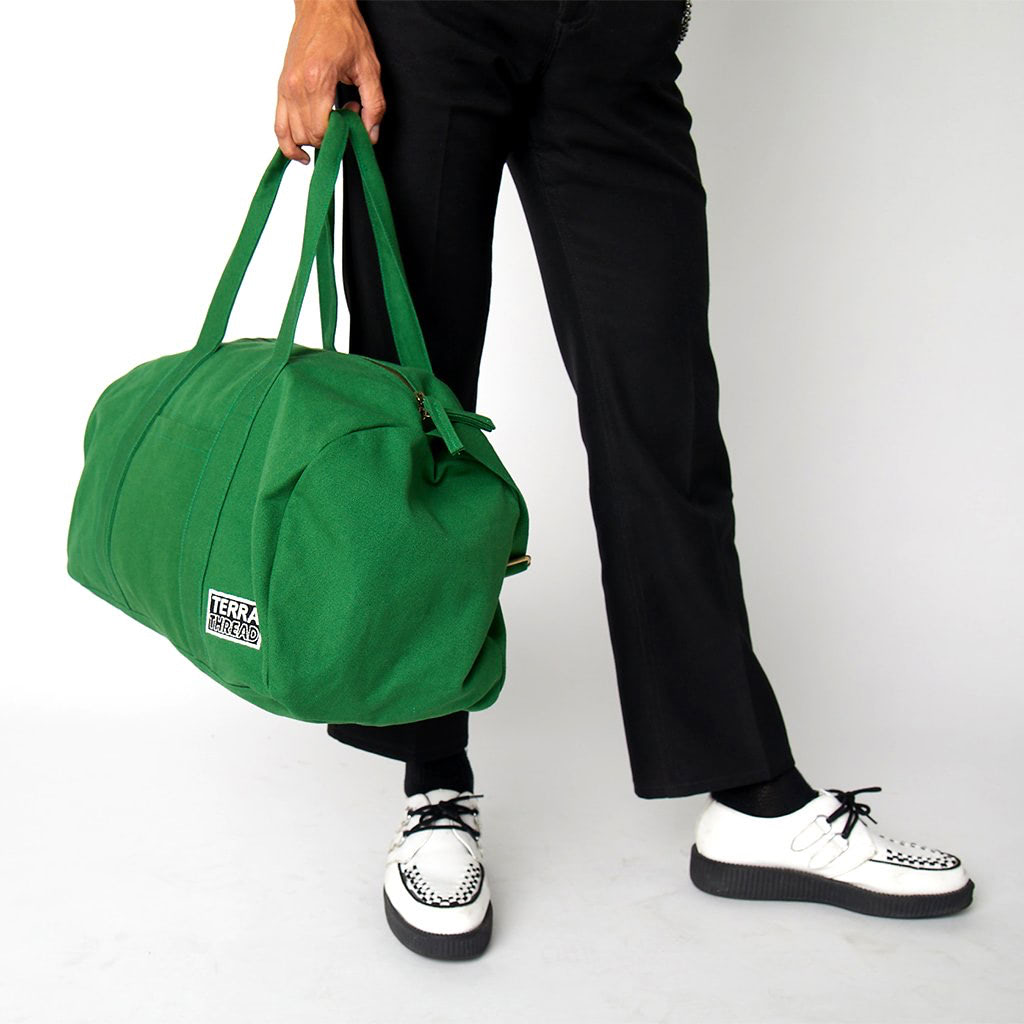 Duffel bags, gym bags, and carry-alls are perennial favorites as corporate gifts because they're universally functional and they can be used as the onboarding swag bags themselves. These travel bags are perfect for weekend getaways, gym sessions, and even commuting. The bags are:
Fairtrade Certified Organic and are GOTS (Global Organic Textile Standard) certified, which means the cotton is produced and certified according to organic agricultural standards, and is free of toxic chemicals like pesticides and insecticides
Produced in a Fair Trade USA Certified Factory, which means the workers are paid legal and fair wages in safe working conditions
Carbon neutral through the support of carbon offset projects.
If ethically produced and eco-friendly swag is a priority for your company, make these bags your next employee welcome kit bags or a gift for conference attendees to take home.
Terra Thread offers customization with a company logo and brand colors.
Closca Bicycle Helmet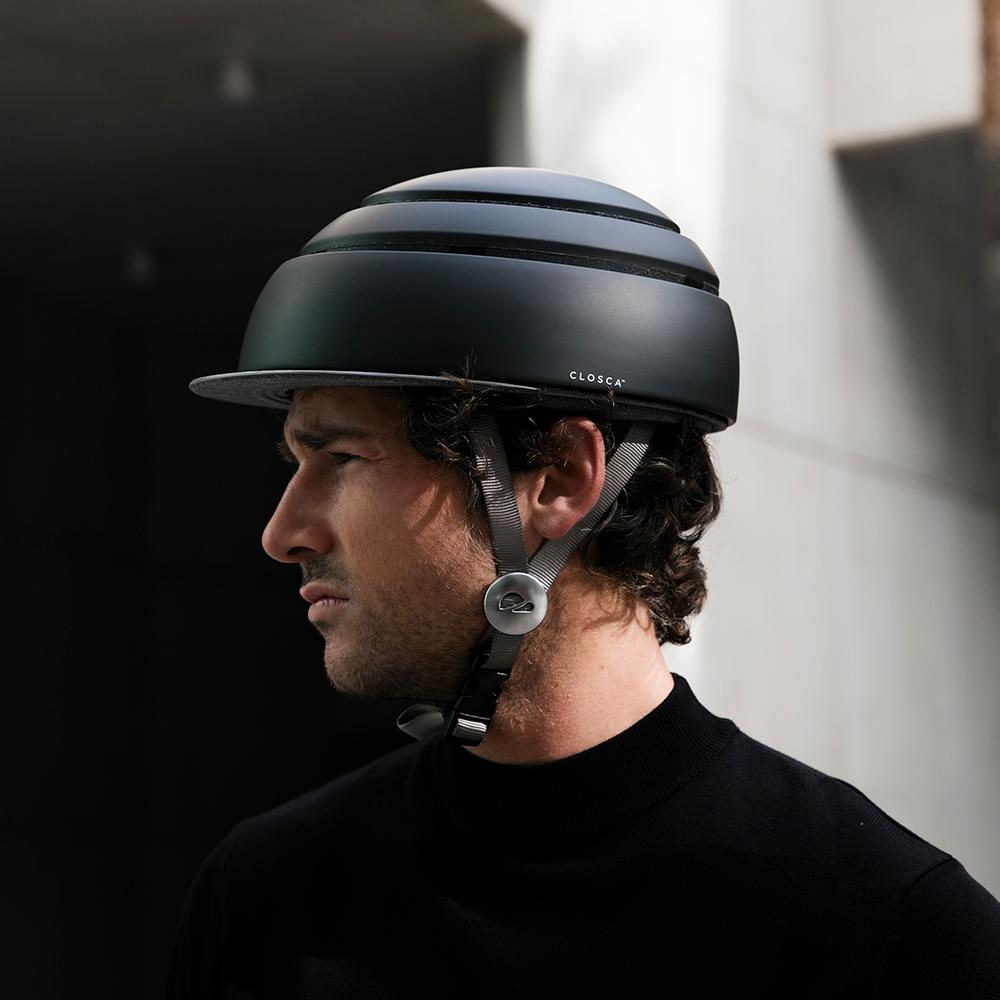 Retail price: €119.90
Ships to: Worldwide
Bicycle commuters and design lovers at your company will love this bicycle helmet that folds into the size of a book so you can easily carry it inside a bag. Its unique features include:
EN1078 and CPSC safety certification, which means the impact is optimally dissipated in case of an accident
Folding system that reduces the size of the helmet by 45% for maximum portability
Built-in NFC chip that allows you to record your medical history and emergency contacts so you can call an emergency number with one tap on your phone
This helmet has won multiple design awards including the Red Dot Design Award in 2015, and looks like no other helmet on the market. You can take the design a step further with interchangeable visors and color customization. It's often the centerpiece of a cool employee welcome kit.
Closca offers co-branding customization options.
Tattly Temporary Tattoos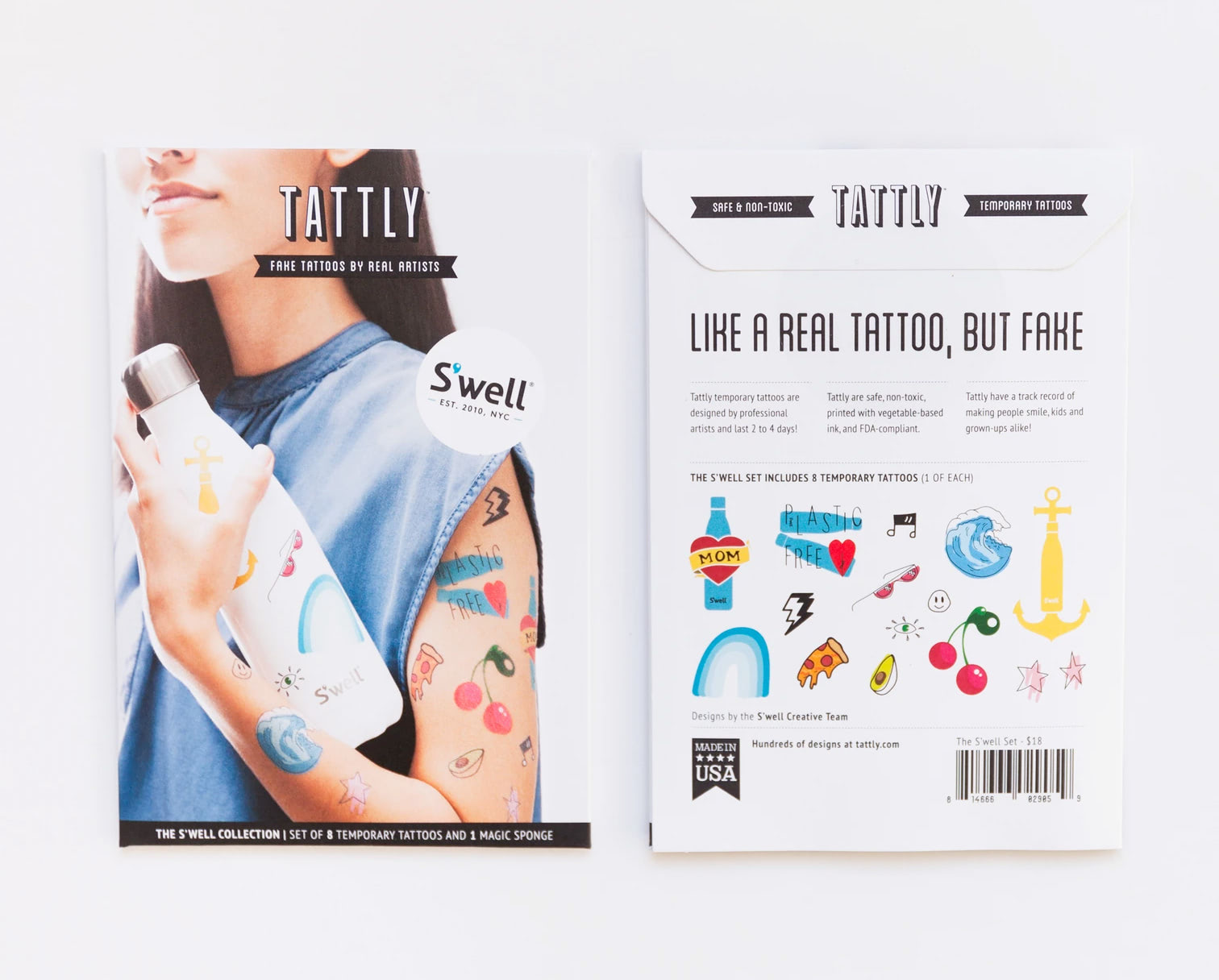 Ships to: Worldwide
Minimum order: 1000
Lead time: 3-4 weeks
Branded stickers make for great promo products for your brand, but what if you could put a sticker on your body? That's exactly what temporary tattoos are for, and custom ones are a fun, low-cost way to reach a large audience, whether you're including them in a corporate gift bag at an event or as part of an onboarding swag bag. These tattoos are:
Safe and non-toxic
Printed with vegetable-based ink
FDA compliant for safe use for all ages
Made in the USA
You can submit practically any design for the tattoo and even add branding content to the back of the tattoo so it includes your logo, a URL, a hashtag, or a slogan. There's also a custom packaging option in case you want to give out packages of multiple tattoos instead of individual ones. Join well-known brands like GE, Brooklyn Brewery, and the Tonight Show that have created fun temporary tattoos to give away.
Tattly allows you to produce your own custom design.
Coffee Cup Made of Coffee Waste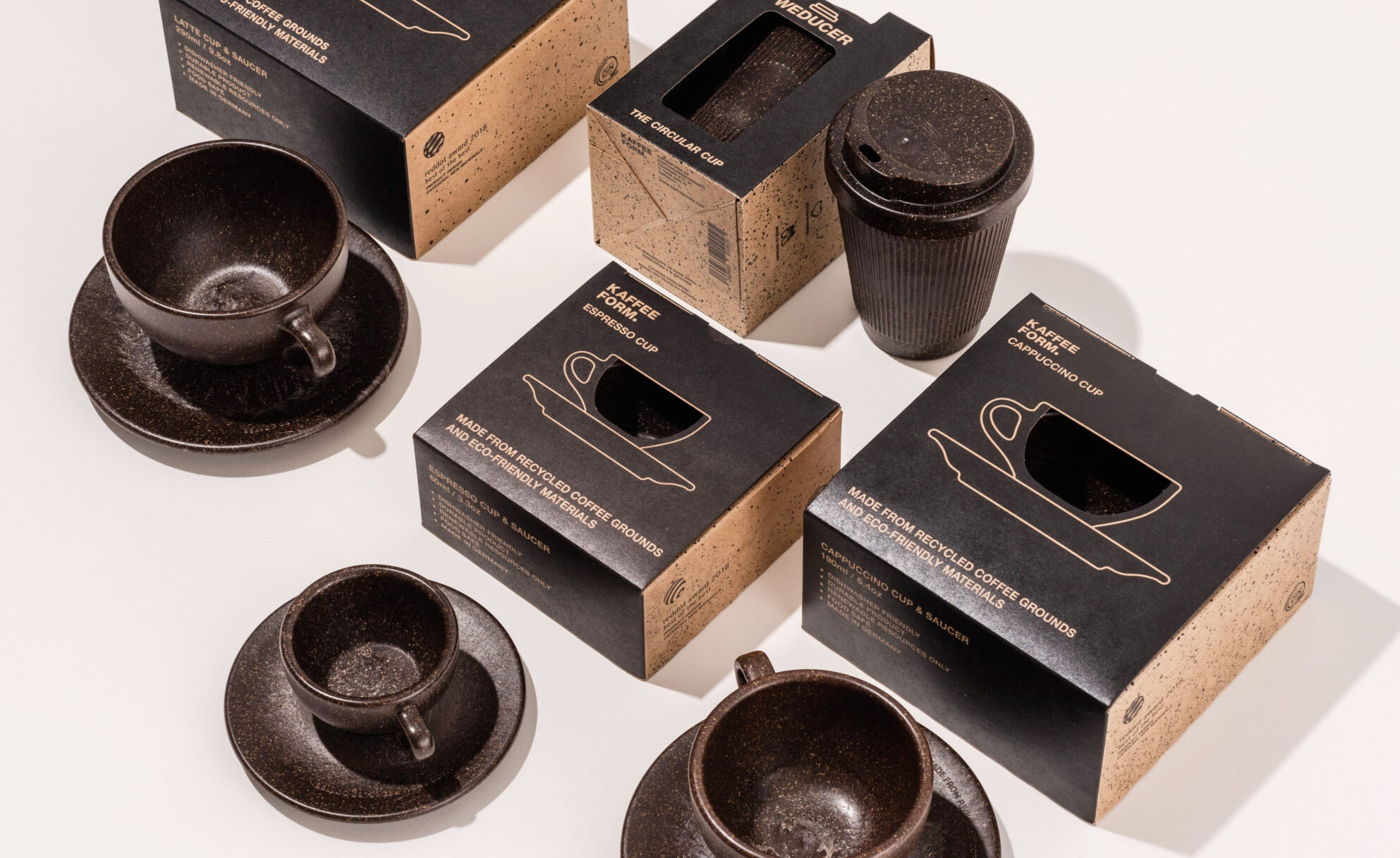 Retail price: €14.90 and up
Ships to: Europe
Coffee is a staple in every workspace and a good cup of coffee is essential for many to have a productive workday. But what about the cup itself? Disposable to-go cups are wasteful and many of the mugs used in offices are brittle, plus we often use multiple cups in a day, which requires much more water and energy to clean.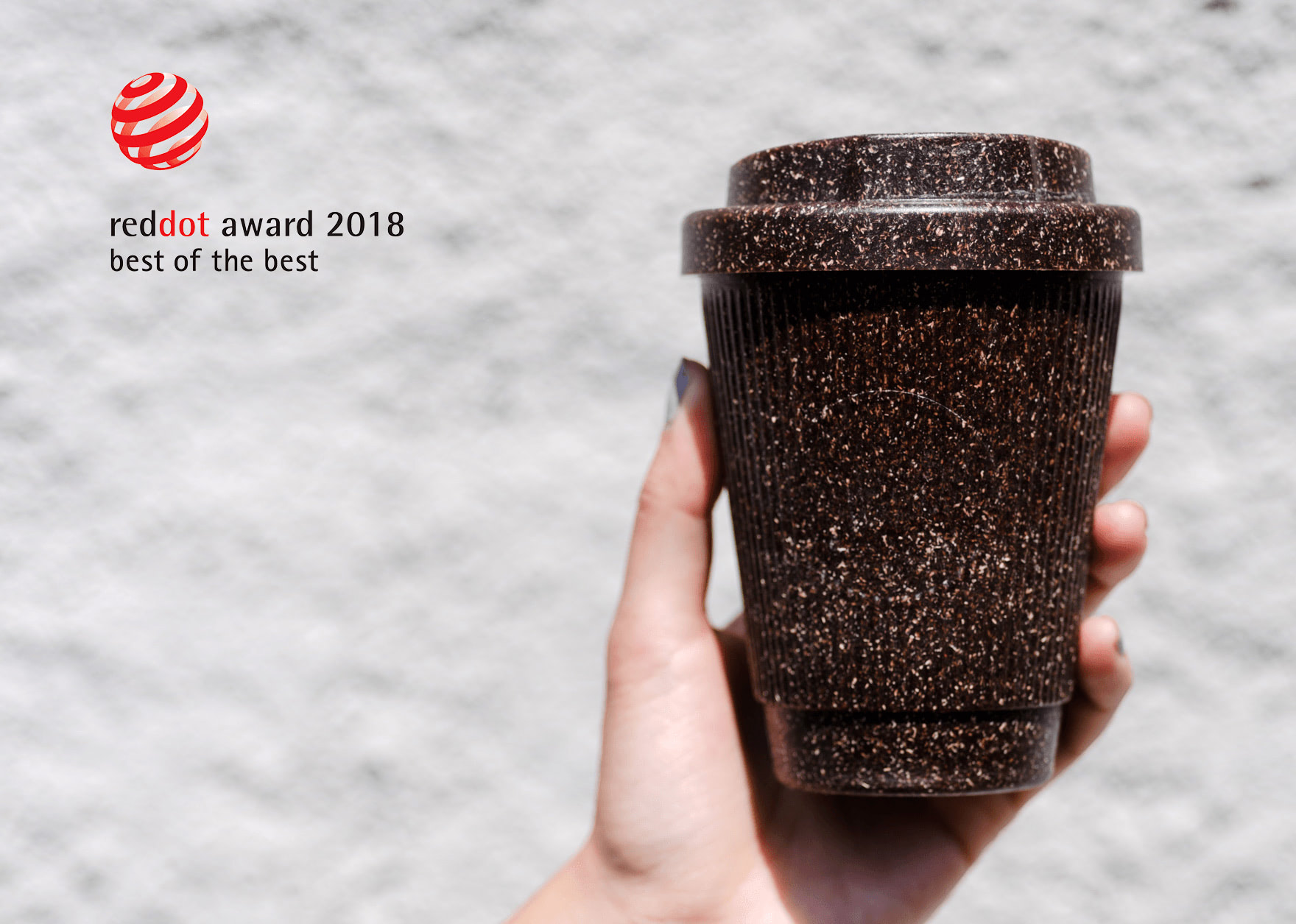 Consider this eco-friendly alternative: a coffee cup made out of used coffee grounds and other renewable materials that's exceptionally durable and light that comes in a beautifully designed shape with a mild coffee aroma.
You can pick an espresso, cappuccino, or latte cup shape, or even the shape of a classic disposable paper-cup with a lid, which is perfect for drinking coffee on the go. This is perfect as a work-from home gift, or as part of a conference goody bag or welcome kit.
The cups are:
Made in Germany by a small independent company
Designed in Berlin, and winner of the Red Dot Design Award in 2018
Vegan, and melamine free
Fully recyclable
Dishwasher friendly
Kaffeeform offers custom printing on any of the cups.
Laptop Stand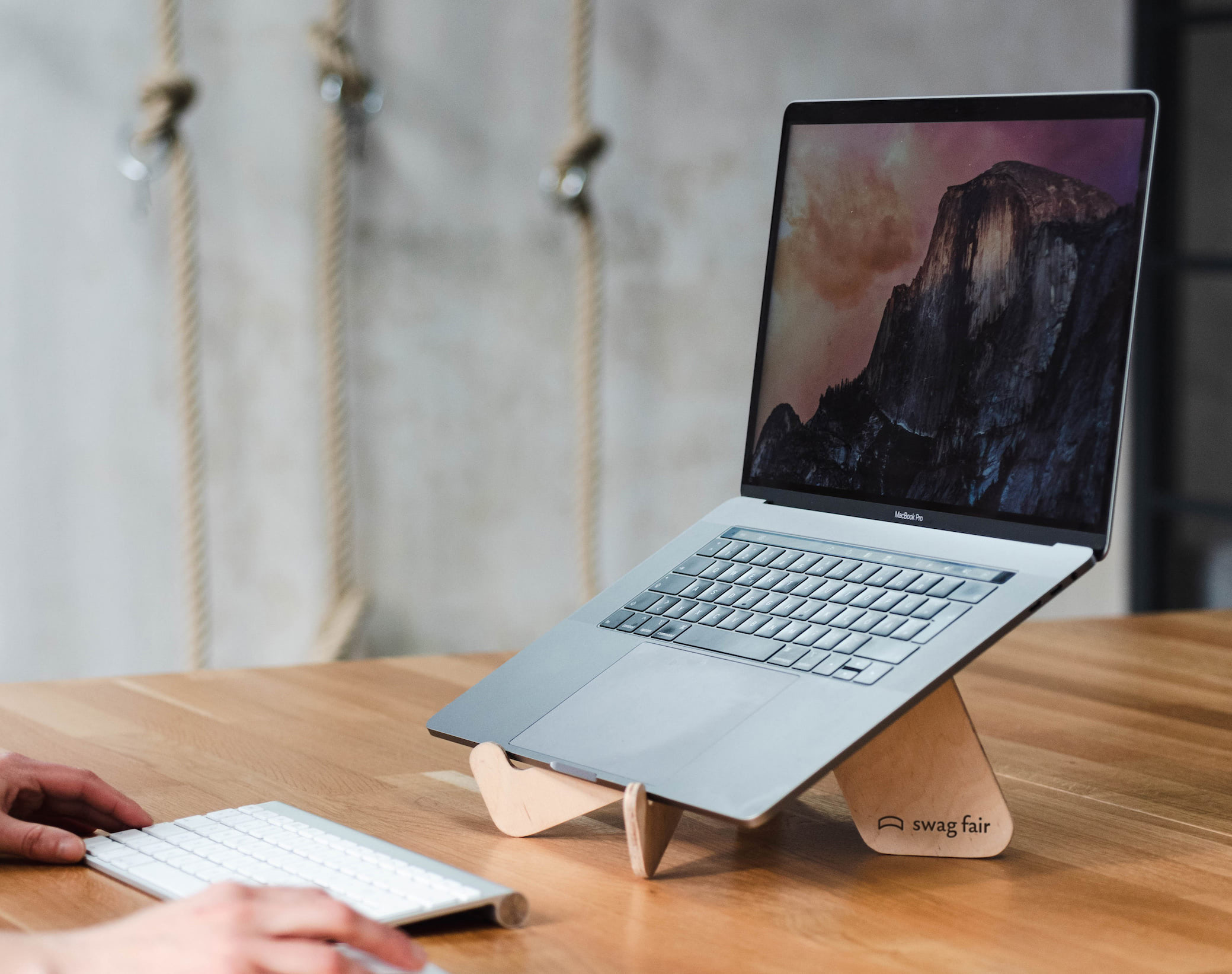 Retail price: $29.99
Ships to: Worldwide
Minimum order: 5 units
Lead time: 15-28 days
Laptop stands have helped people improve their ergonomic setups for years by decreasing neck and back pain, but the sustainable options have been limited. That's where Swag Fair's very own customizable wooden laptop stand is different. Our stands are:
Made from European or US-harvested wood (premium Russian birch or Belarusian aspen in Europe, and maple in the US)
Made in a small family-run workshop in Belarus, Serbia, or Wisconsin, USA to reduce our transportation footprint
Oiled using natural plant oils and waxes that's food-safe, and safe for children, animals, and plants
Portable and lightweight, sized to fit all 11-13" MacBooks and most PC laptops
It's easy to add your company's logo, which we laser-engrave onto one of the stand's sides. Laser engraving is more eco-friendly than printing, and lasts forever. Join major companies like Sketch, Samsung, and Cisco who have gifted these laptop stands as a conference swag.
Swag Fair offers convenient customization and orders by various unit sizes from 5 units to 200 units and over.
Origami Plant Pot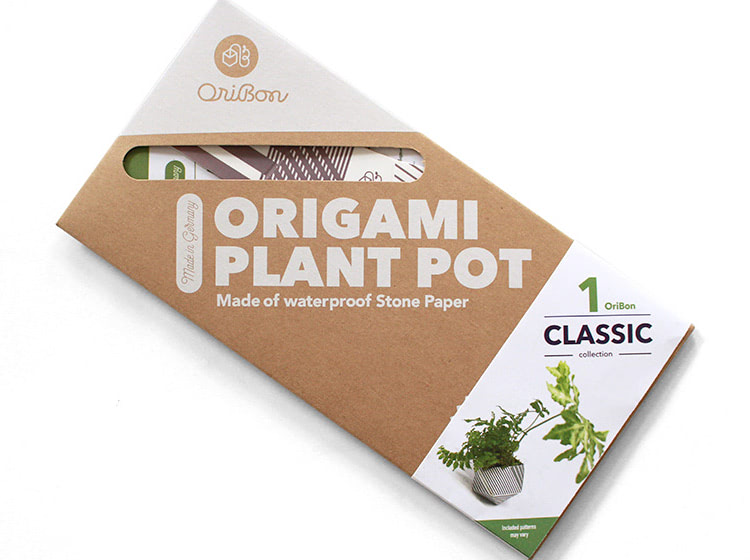 Retail price: €6
Ships to: Worldwide
Here's a truly unique swag idea that's eco-friendly at a low price. The origami plant pot is a thoughtfully designed plant pot made of recycled stone paper that can house a variety of small plants. It's the perfect desk accessory whether your team is at the office or working from home. The pots are completely tree-free because they're made of stone paper, and they're both waterproof and compostable. They come in a variety of minimalist striped designs, and include instructions for easy assembly.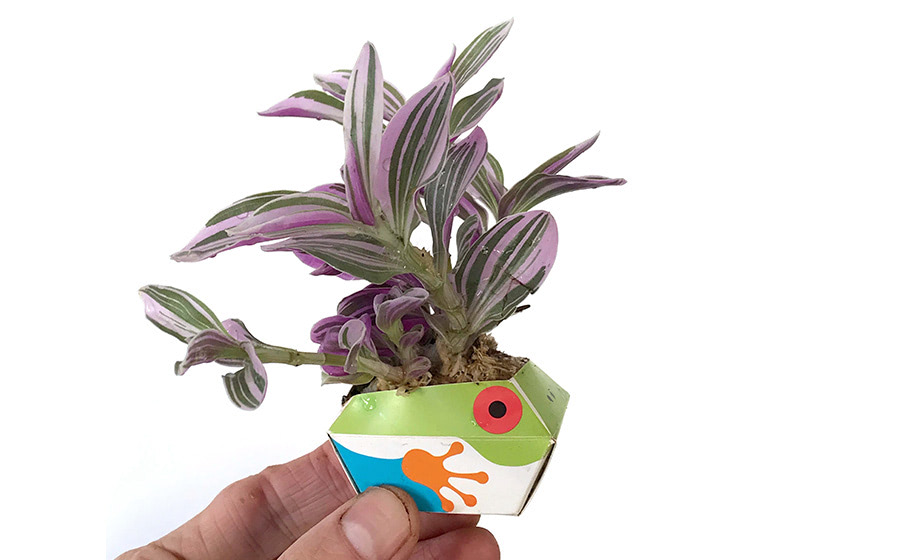 It's a small gesture that could go a long way as a simple employee gift or promotional giveaway item, or as the final item of a larger goody bag at conferences or in an employee welcome kit.
Contact OriBon creator Koi directly at info@oribon.de to place your order and tell them that Artiom at Swag Fair sent you.
Modular Organizer Stand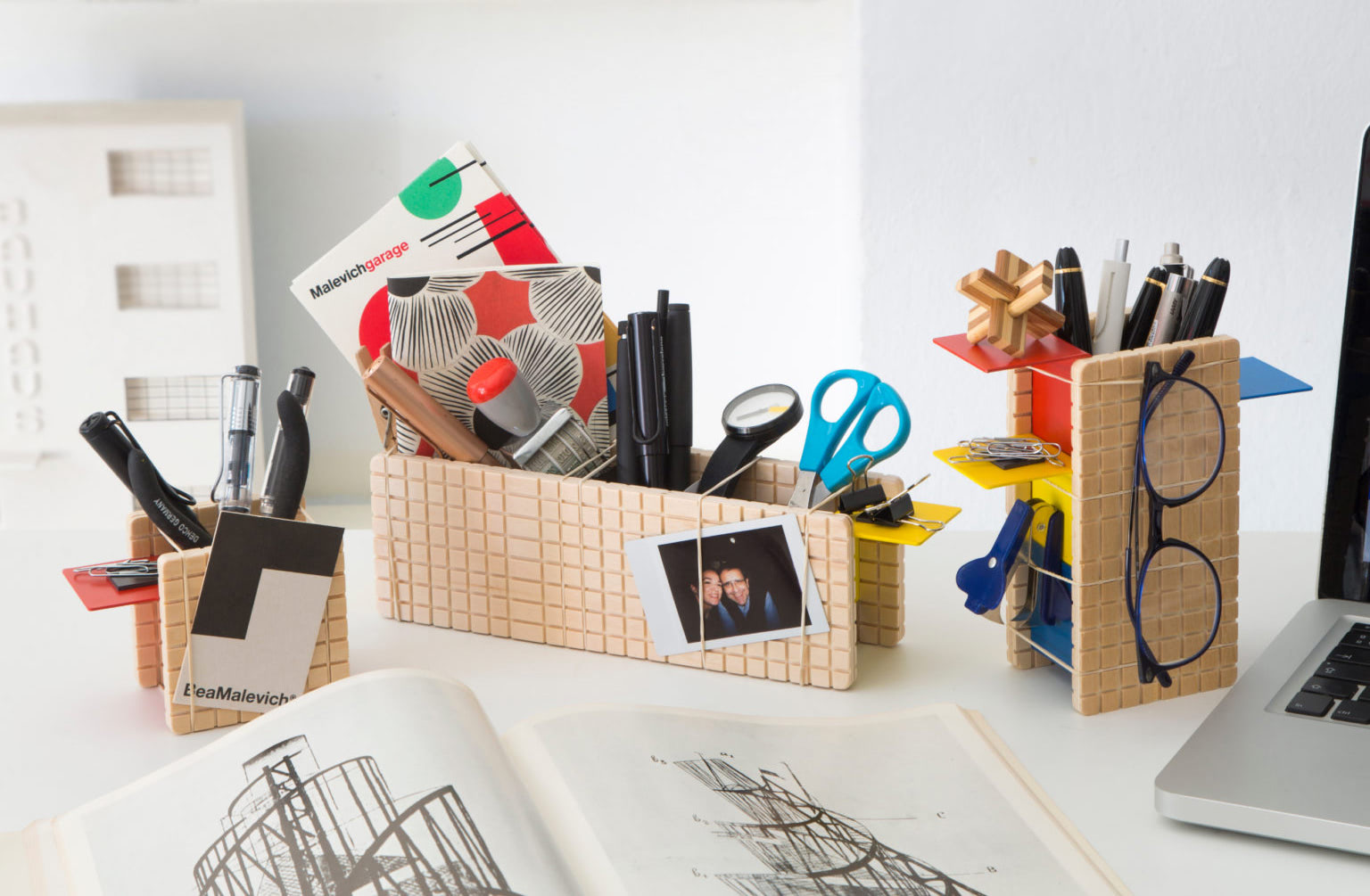 Retail price: €39
Ships to: Worldwide
Minimum order: 50
Everyone has their own way of organizing their workspace, which is why a modular DIY desk organizer is the perfect all-in-one solution to suit every individual's needs. Made of simple recyclable materials like wood, metal, elastic bands, and cardboard, this organizer is fully modifiable and customizable so you can make it your own and experiment with different configurations to fit all your pens, tools, and accessories.
Your team will be able to enjoy this gift straight out of the box at their home or office desks, and add their own personal touches. Even on its own, it's a stylish piece of decor born from a Barcelona-based design studio that specializes in decorative design items and in reinventing everyday objects.
Contact xavier@beamalevich.com directly to place your order and tell them that Artiom at Swag Fair sent you.
Stone Paper Notebook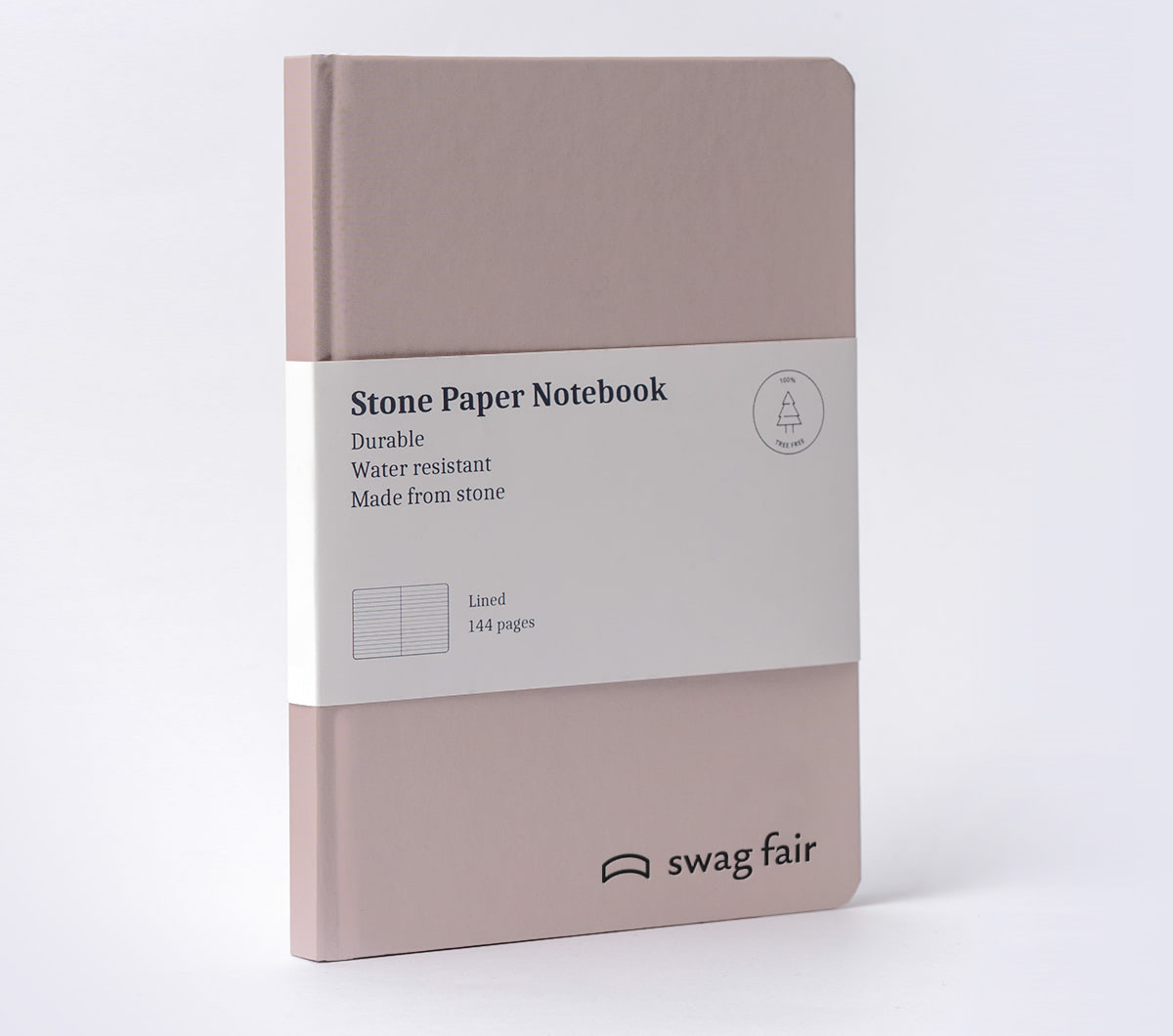 Retail price: €14.99
Ships to: Worldwide
Minimum order: 20 units
Lead time: 15-28 days
We're all familiar with the branded notebook as a new employee gift – it's a no-brainer for people to start taking notes during onboarding and write down useful information. We're probably also familiar with spilling coffee on our notebooks, accidentally tearing important pages, or just losing them altogether.
There's a unique notebook that takes care of all these issues. It's called a stone paper notebook, and the pages are made from a mix of stone powder recycled from industrial waste and non-toxic resin. This means they're:
100% water resistant
Tear-resistant
100% tree free
Using 100% water free production
Not causing CO2 emissions in production by reducing energy by up to 85%
100% recyclable
Plus, the use of stone paper saves oxygen for 40 people every year, as one ton of wood pulp paper requires 18 grown trees to produce. Swag Fair's partners produce every notebook in a small production facility in Lithuania, and are committed to a "leave no trace" approach.
Swag Fair offers convenient customization and orders by various unit sizes from 5 units to 200 units and over.
Food Bowl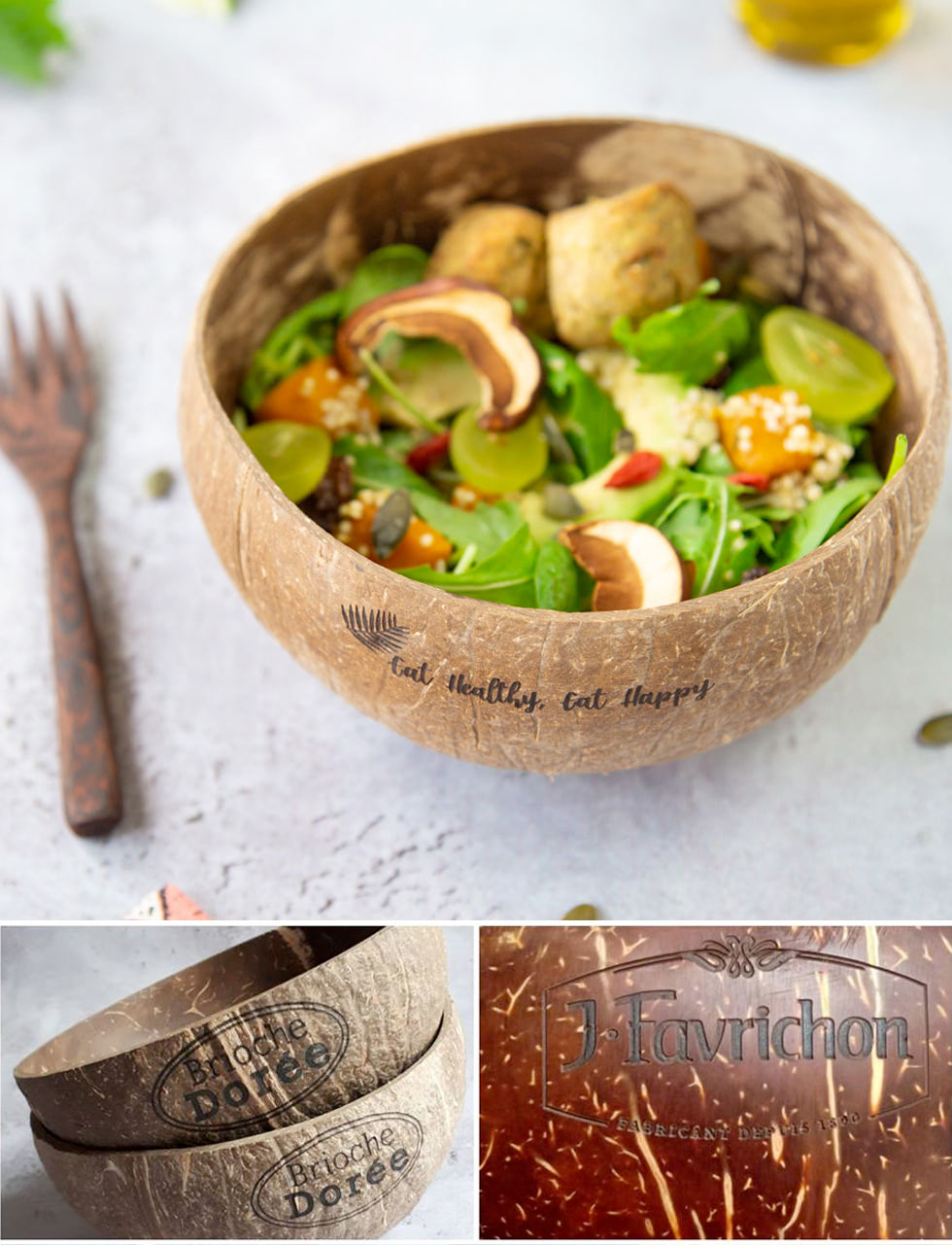 Retail price: €13.45
Ships to: Worldwide
Using eco-friendly products in everyday life can not only be sustainable, but fashionable too. These natural coconut bowls are highly Instagrammable and wouldn't look out of place at the trendiest organic or vegan restaurant. Now your team can enjoy that look and feel at home or at the office.
Made out of actual coconuts, these bowls are perfect for your next Buddha bowl, açai bowl, or mixed salad. Of course, they're completely compostable and can be rejuvenated whenever necessary with the application of organic coconut oil with a cloth. They come in two finishes – a polished and smooth finish that's soft and shiny, or a more natural finish that's closer to the original coconut. This shows custom engravings better as it's a little darker and allows the design to stand out.
MonJoliBol offers customization options on their website.
Bag Clip Sealer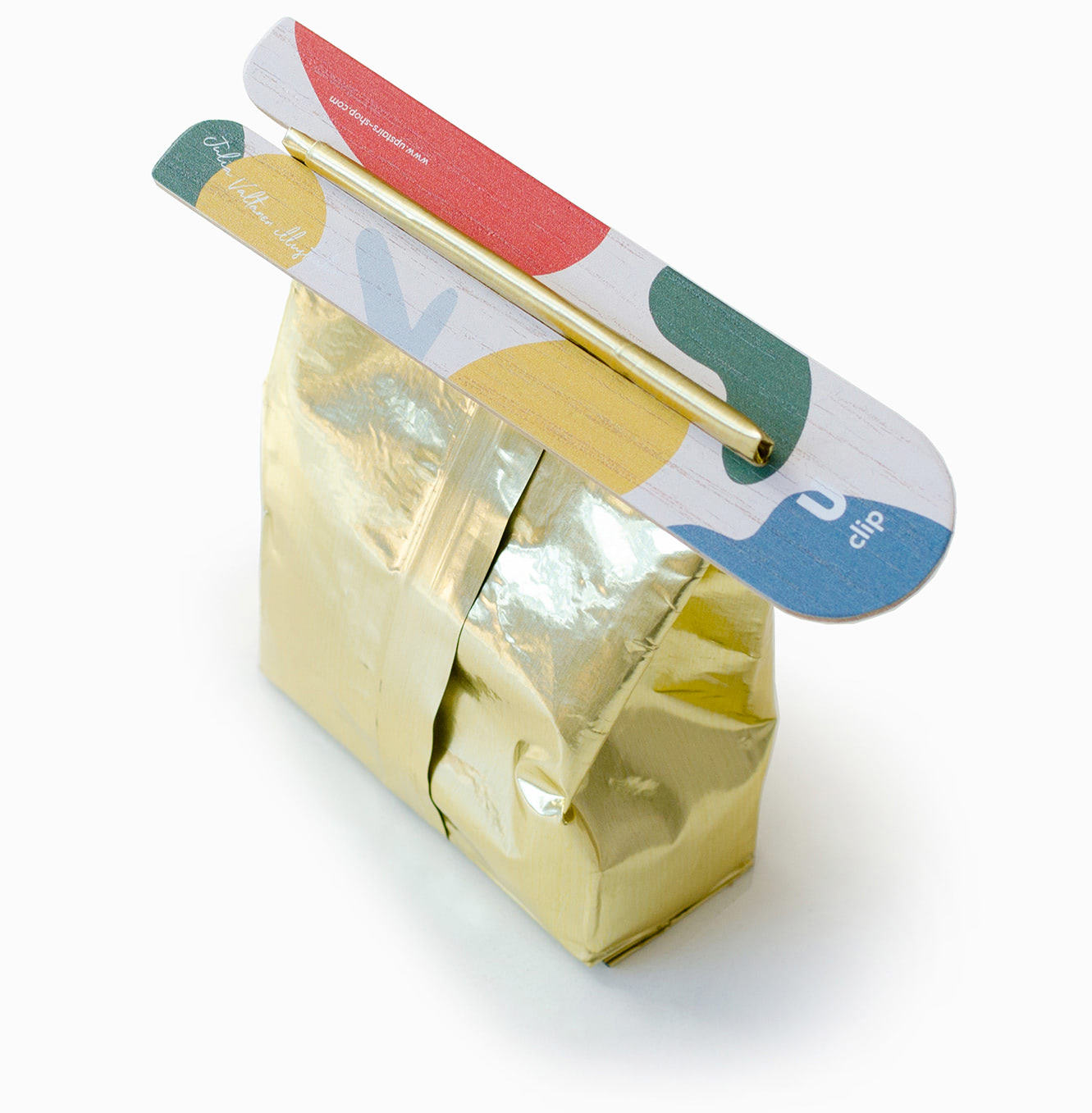 Retail price: €7
Ships to: Worldwide
Here's an item you may not think is essential until you need one, and don't have it. It's a reusable U-clip that seals opened bags and packages like tea, coffee, potato chips, and other snacks. Not only does resealing help keep food fresh and clean, but it also makes kitchen space easier to organize. Better organization often leads to a happier, healthier work kitchen environment where people are opening and reopening food and beverage containers all day.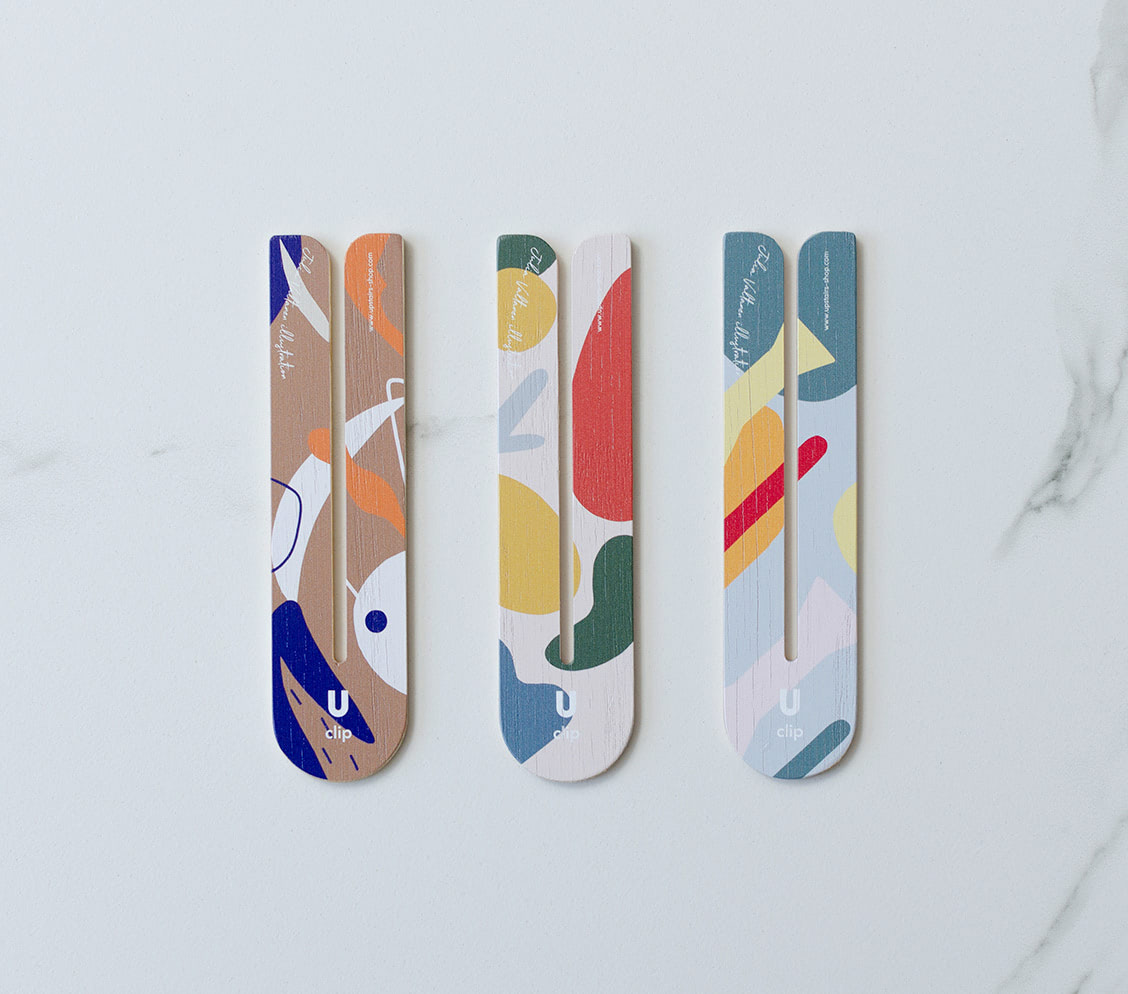 The U-clip is made of premium oak plywood and finished with natural oils approved for contact with food. You can customize the prints on the surface with your branded design, or choose one of the existing designs made in collaboration with illustrator Julia Valtanen.
This is a simple, thoughtful gift that works on its own as a small promo item or as part of a larger onboarding swag bag.
Upstairs Shop accepts custom orders directly from their website.
Wall Clock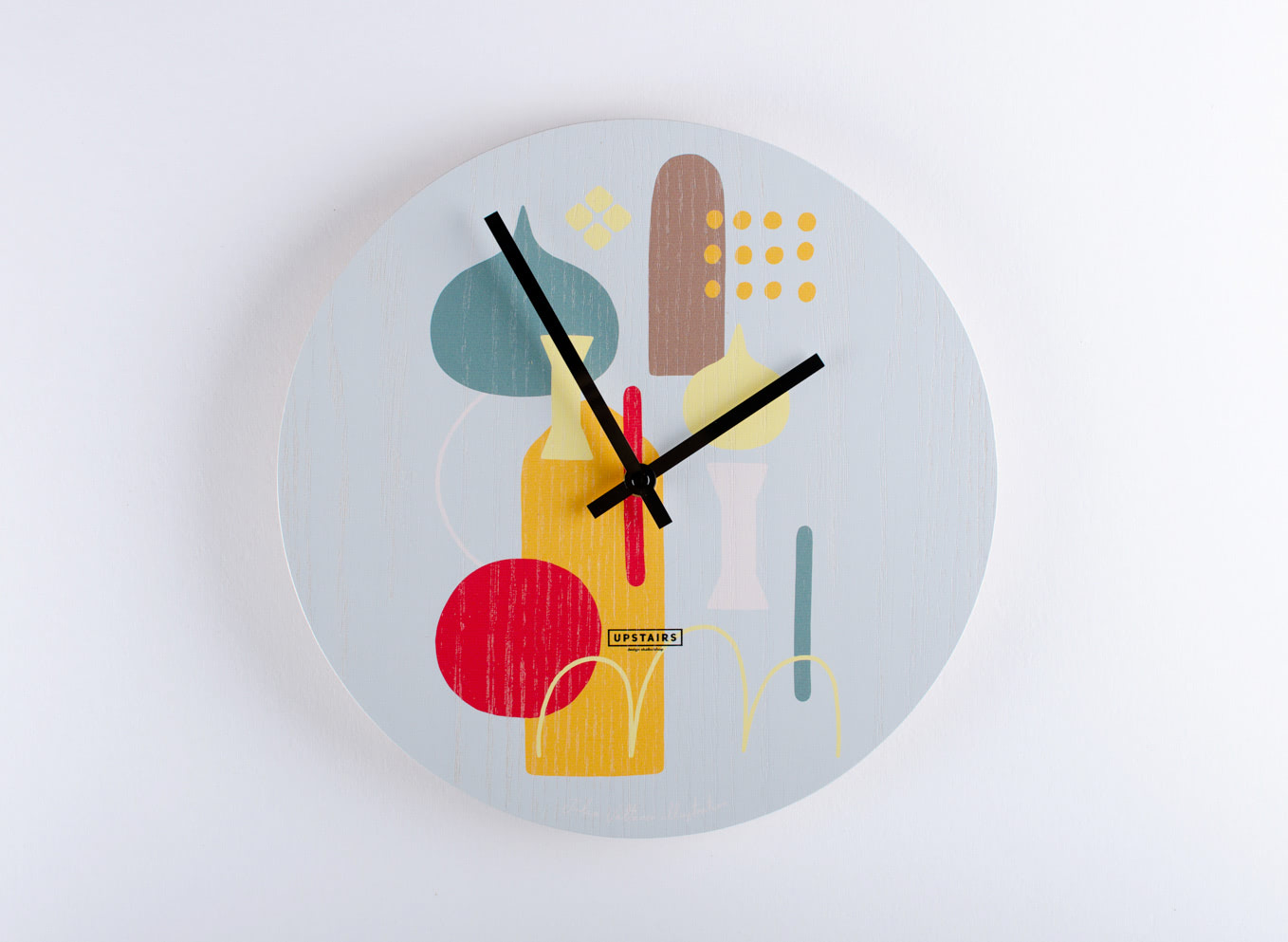 Retail price: €50
Ships to: Worldwide
Minimum order: 1
We may not rely on watches and clocks any more to tell the time, but a beautifully designed wall clock is still a stylish statement piece, especially for a home office. In fact, this premium oak wall clock can be the cornerstone of your next employee gift offering, or as a standalone gift for an executive.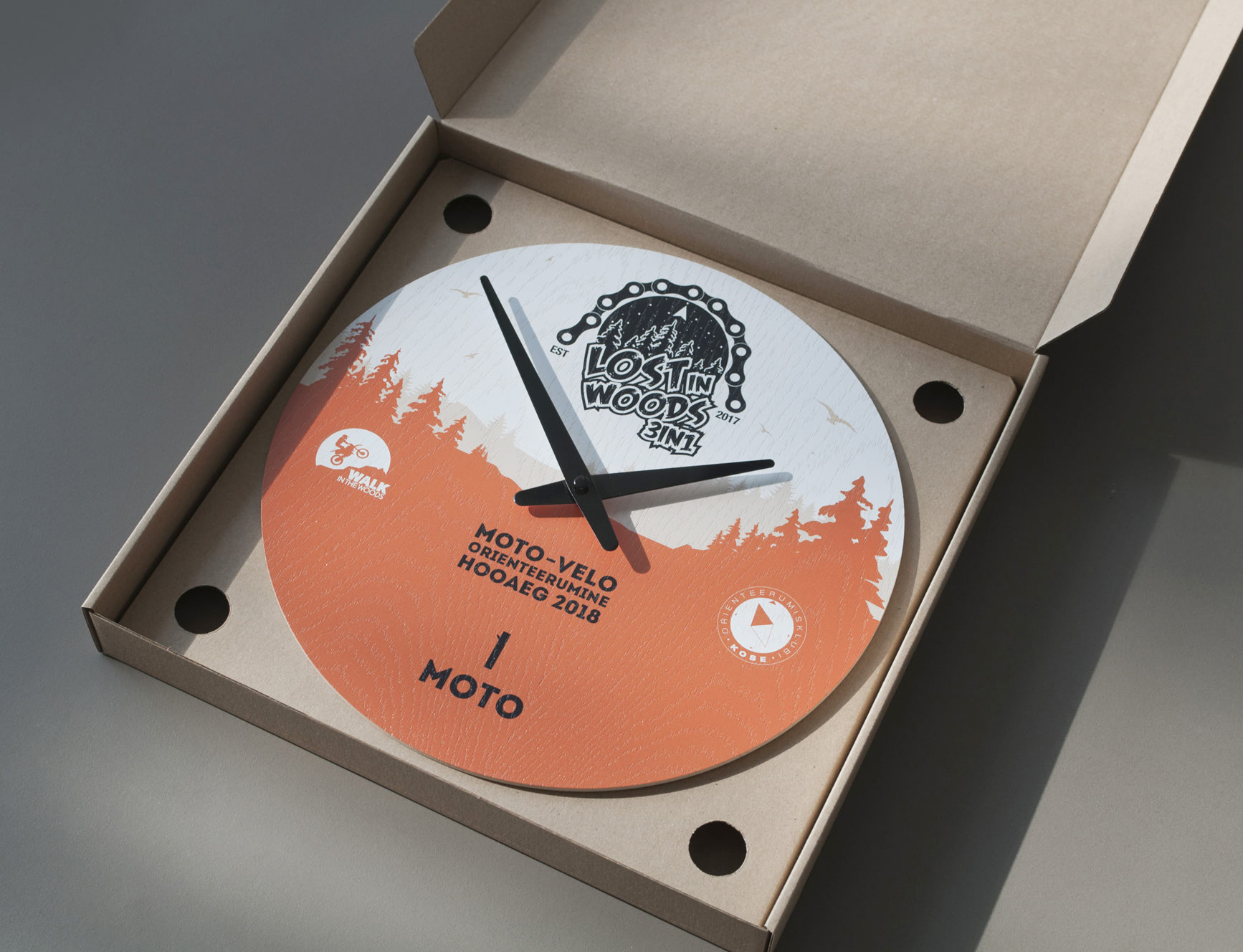 Born out of a design studio in Tallinn, Estonia, these clocks are available to be customized or in an existing unique illustration made in collaboration with Julia Valtanen. Every illustration is printed directly on the premium oak plywood in durable, non-fading pigment ink. Each clock is finished by hand with a silent quartz movement and black metal hands, and coated in a non-toxic varnish.
Upstairs Shop accepts custom orders directly from their website.
Seed Grow Kit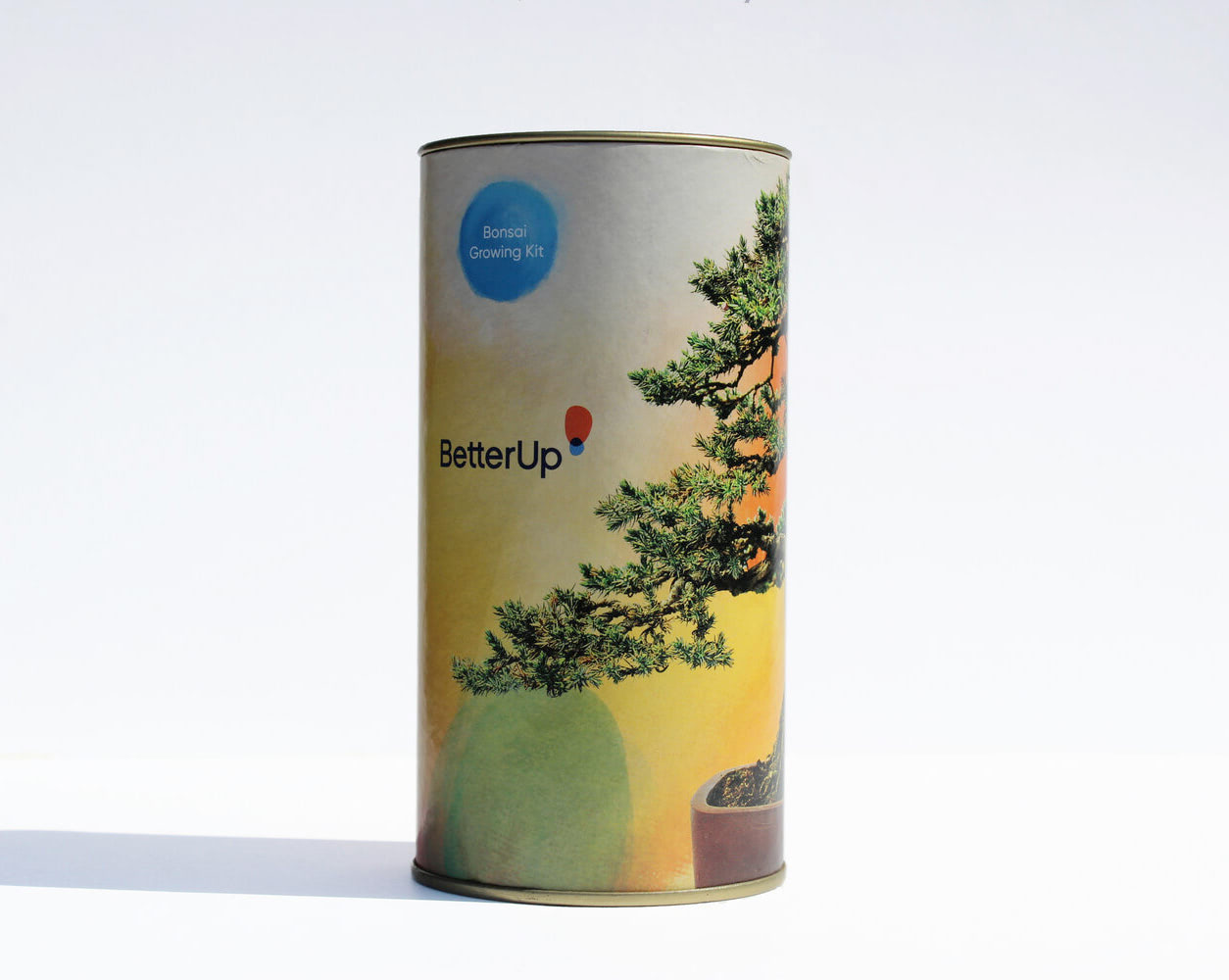 Take your company's commitment to sustainability to another level with these "100% guaranteed to grow" tree growing kits. Every kit includes everything that's necessary to successfully germinate and grow some of the world's most incredible trees. It's a completely self-contained environment to grow a tree that includes the following ingredients:
Mini-greenhouse that acts a tree nursery you can hold in your hand
A soilless growing medium that can travel safely anywhere in the world
Perlite, a a natural volcanic rock that helps with aeration and drainage
High germination seeds that guarantee at least one tree, and usually more
Step-by-step instructions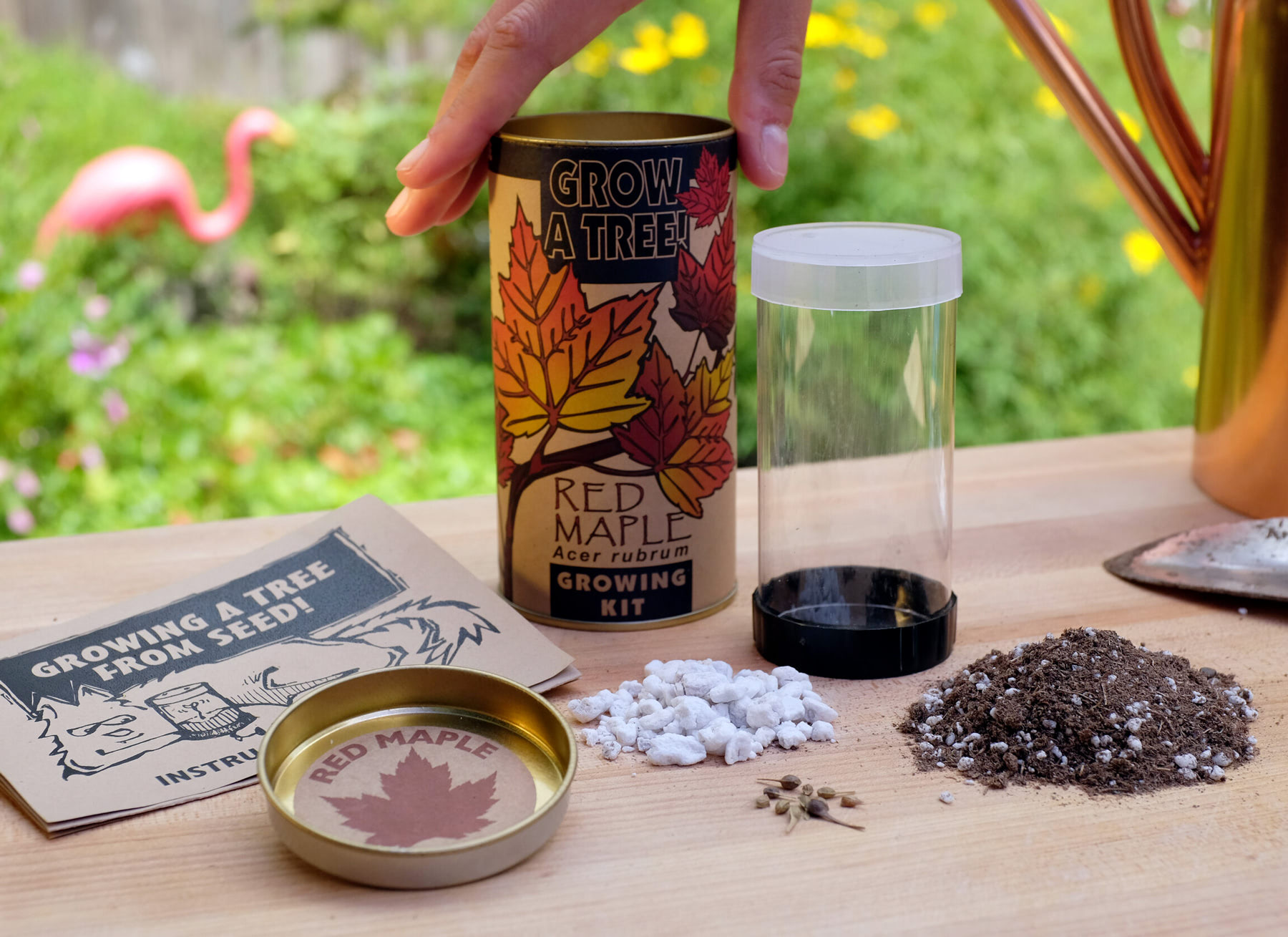 Not only is this a fun desk project, whether you're working from the office or working from home, it's also a magical gift for an employee to give a young loved one. There are several well known trees to choose from, including the famous flowering cherry tree, bonsai tree, palm tree, or even a Christmas tree. There are few employee gifts as eco-friendly and unique as this.
Jonsteen offers custom packaging and promotion through its full service art department on their website, and has experience working with small independent retailers to organisations like Disney and The White House.
Eco Lunch Box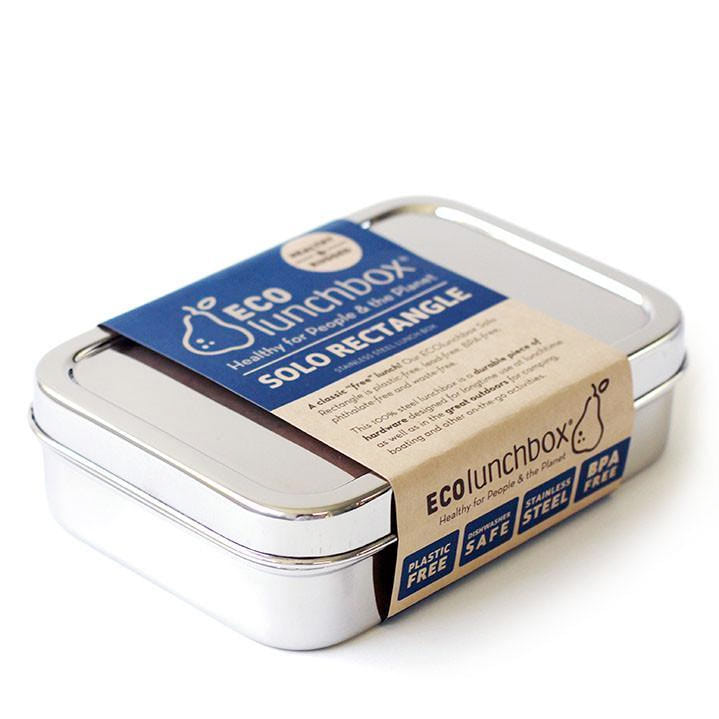 Disposable containers from to-go lunch orders add up quickly and are hugely wasteful, even if they're made of recyclable paper or plastic. One of the best ways to reduce food container waste is to use a stainless steel container that's portable and resealable, so you can carry your pre-packed lunch, use it in your company's cafeteria, or even request to have it filled at restaurants.
These stainless steel lunch boxes are the perfect size for one meal, and they're non-toxic, meaning they're free of toxins commonly found in plastic like BPA (bisphenol-A) and BPS (bisphenol-S), and phthalates. They're also dishwasher-safe and can be put directly in an oven or over a camp stove.

The best feature of these lunch boxes is the customization option where you can have your logo or design etched onto the lid. Eco Lunch Box is also a B Corp and California Green Certified Business, and their products are made in India.
Eco Lunch Boxes takes custom and bulk orders directly through their website and offers customized etching.
Everything Stand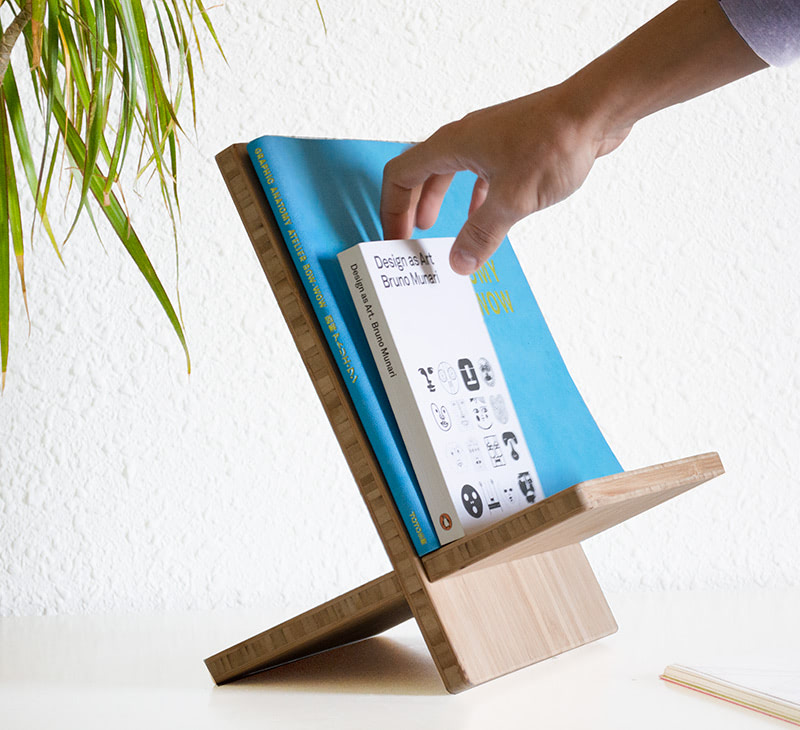 Retail price: €65
Ships to: Worldwide
Minimum order: 10
Design enthusiasts will love this bamboo book stand and podium that will comfortably fit books and magazines, but also doubles as a desktop podium or lectern. You can use this as an aesthetic office accessory that brings a modern minimalist touch that you set and forget, or use it every day as a practical stand for your meeting notes.
It's one of the more sophisticated items on this list, and works as the centerpiece of an impressive swag bag or as a standalone gift for an executive or as a promo prize. Available in a smooth bamboo or thin black iron finish, this everything stand will impress whoever receives it.
It looks like the kind of item you'd find at a world-renowned museum's gift shop because the design studio that produces it works closely with such cultural institutions, including the Guggenheim Bilbao, Centre Pompidou, Museo del Prado, Thyssen-Bornemisza, Fundació Miró, Cité de l'Architecture in Paris, Mies van der Rohe Barcelona Pavilion, Bauhaus Dessau, Reina Sofía Madrid, and many more.
Contact xavier@beamalevich.com directly to place your order and tell them that Artiom at Swag Fair sent you.
Paper Book Stand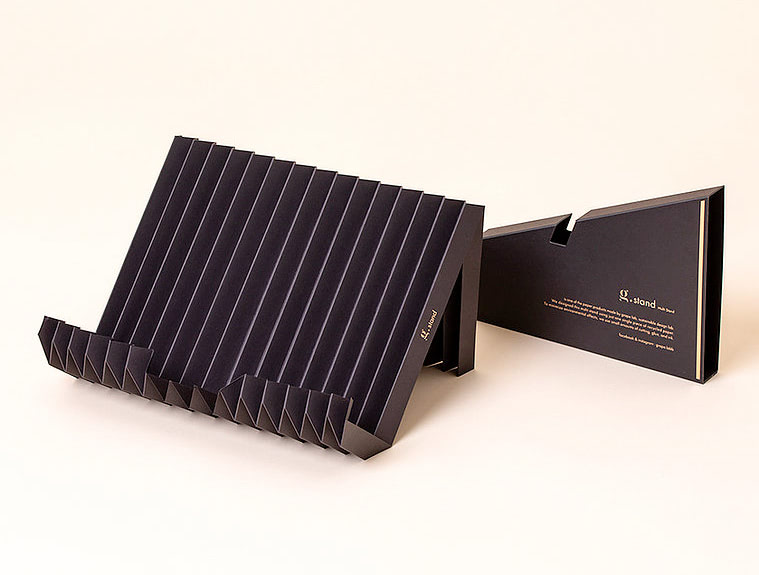 Retail price: €35
Minimum order: 300
For the eco-conscious bookworms or students on the go, this g.Stand paper book stand is a welcome addition. This book stand weights just 60 gram and made entirely of paper. In fact, it's made from a single sheet of 100% recycled pH-neutral paper without the use of glue or chemical coatings. And if you need to dispose of it in the future for any reason, it's 100% recyclable.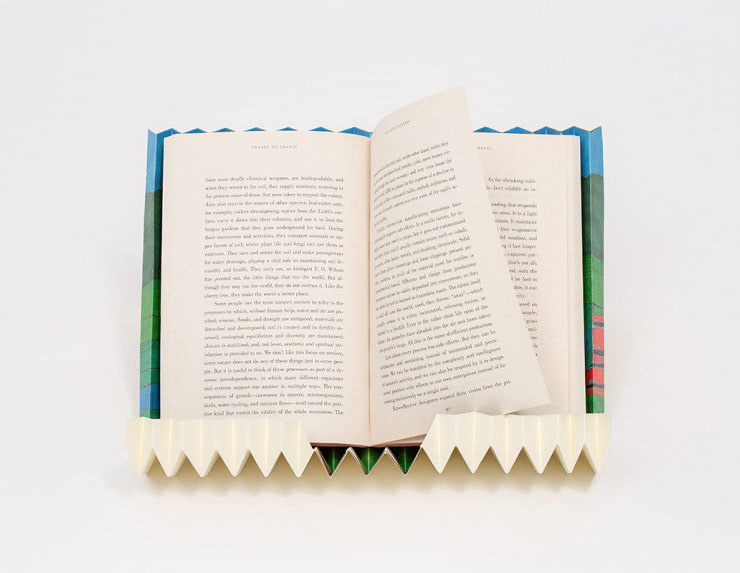 Contact Hyeji Herr, the founder directly to place your order: info@hanforum.de and tell them that Artiom at Swag Fair sent you.
FLÎKR Personal Fireplace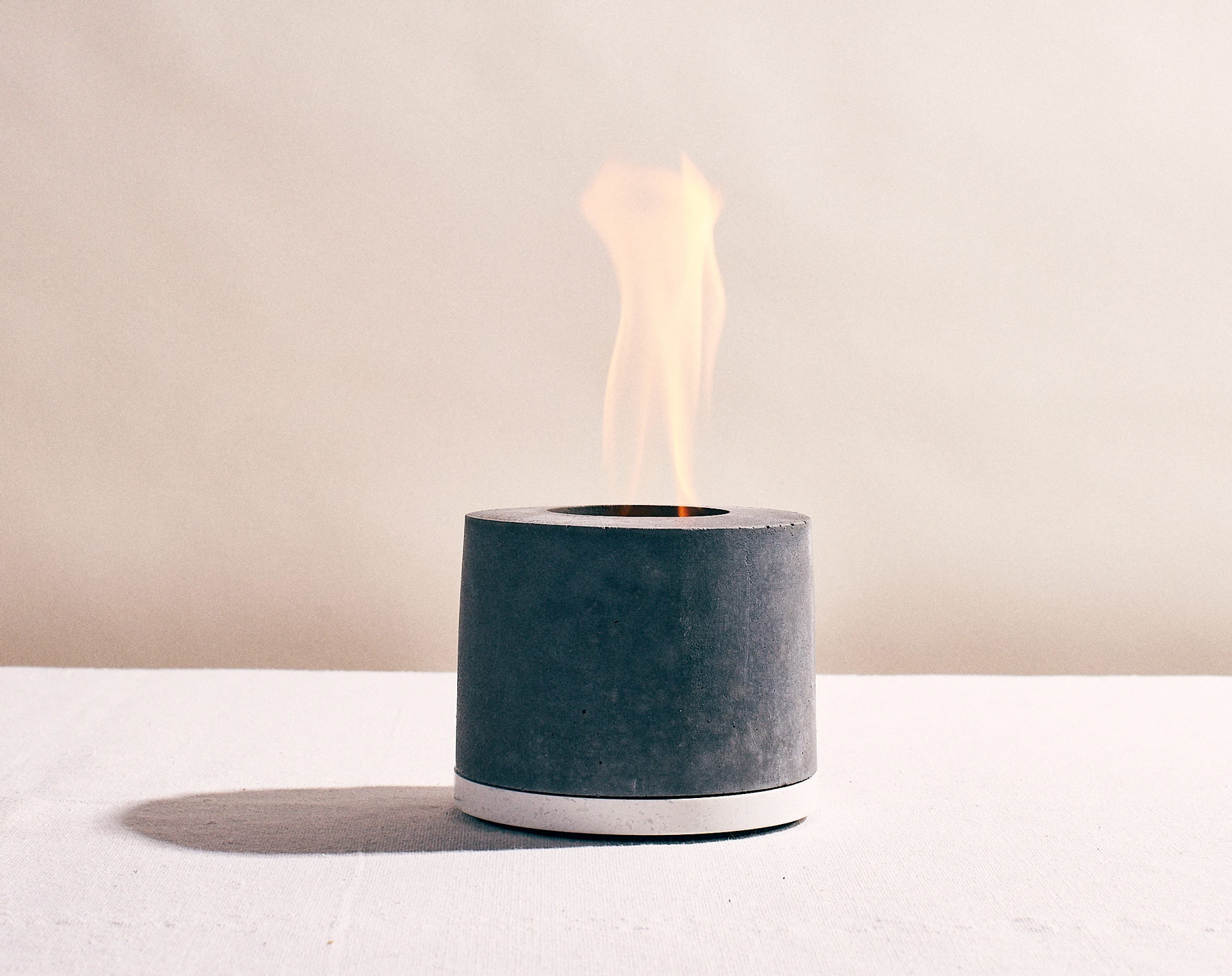 Retail price: $95
Minimum order: 8 units
This gift is the hottest item on our list that people will be talking about for years. Onboarding gift bags and conference goody bags rarely feature something so unique. FLÎKR Fire is a personal fireplace that's completely safe to use inside and makes for a beautiful centerpiece for any room. How does it work? Isopropyl alcohol, which burns "clean" so it doesn't leave soot all over the place or leave dangerous amounts of carbon monoxide as long as you provide a normal amount of ventilation. It burns continuously for 45 to 60 minutes, and you can place it on pretty much any flat surface.
We can imagine intimate gatherings and deep conversations inside around the fire, personal introspective moments before or after a long day, and many questions from inquisitive guests. Designed and made in Tennessee by a team inspired by the Wabi Sabi aesthetic, or the acceptance of imperfection, it's made of a proprietary non-absorbent, high-temperature cement that houses the heating element with a quartz-like material at the base.
If you've been wondering about a statement making self-care work from home gift, this is it.
Contact Haley Seera from FLÎKR Fire team directly (haley@flikrfire.com) to place your order and tell them that Artiom at Swag Fair sent you.