Box size
33 x 25 x 4.5 cm

Chocolate bar (48g)
Organic and vegan. Made with raw cacao, which is high in antioxidants and classified as a superfood. Made in Finland.
You'll get a mix of flavours:
Wild Blueberry
Ginger Bread
Coconut

Hand sanitizer (40ml)
Vegan, quick-drying, eliminates 99.99% of all germs, prevents dry and cracked hands skin, includes 570+ sprays. Made in Spain.
You'll get a mix of scents:
Lemon Touch — aromatic calm with notes of lemongrass and verbene.
Floral Glow — blooming aroma with notes of florals, rose and jasmine.
Dusky Sound — earthy, yet fresh aroma with notes of sandalwood and amber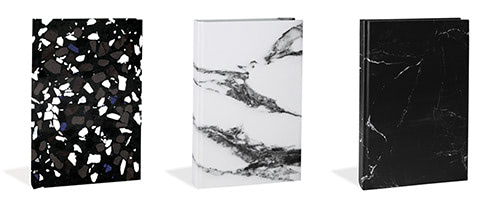 Notebook
Made from stone paper. 100% tree-free, waterproof, tear-resistant. Makes for a 67% smaller eco-footprint. 144 ruled sheets measuring 14,8×21 cm. Made in the Netherlands.
You'll get a mix of cover designs (unless you prefer only one):
White marble
Black marble
Black terrazzo

Set of 40 placecards with 80 questions to sparking meaningful and revealing conversations around the table. A brilliant activity to do with a partner, friends or family. Produced in England.